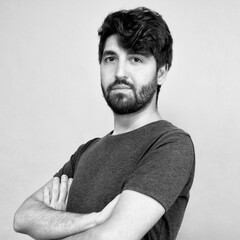 Roberto Digiglio
Freelance Creature and Character Artist | Designer
Turin, Italy
Summary
I'm a Freelance Italian 3D Artist, Concept Artist/Designer and Art Director with many years of work experience in entertainment industry with clients like Aaron Sims and Amazon Prime Video.
I'm an expert in 3D modeling and sculpting, and I'm specialized in design and 3D production of creatures and characters for movies and games, and, of course, I'm also a lover of science and speculative biology.
I also deal with professional rendering and I have excellent lighting, post-production and VFX skills.
My interview for 3DTotal
https://3dtotal.com/news/interviews/roberto-digiglio-freelance-creature-character-artist-interview
Skills
Digital Sculpting
Creature Design
Character Design
3D Modeling
Concept Art
Character Modeling
Creature Modeling
Low-poly Modeling
Retopology
High-poly Modeling
PBR Texturing
Digital Painting
Lighting
VFX
Software proficiency
Productions
Video Game

Symbiosis

Year

2022

Role

3D Lead Designer

Company

Polymorf

Video Game

RIDE 3

Year

2018

Role

Lighting and VFX Artist

Company

Milestone

Video Game

MXGP PRO

Year

2018

Role

Lighting and VFX Artist

Company

Milestone

Video Game

MotoGP™18

Year

2018

Role

Lighting and VFX Artist

Company

Milestone

Video Game

Gravel

Year

2018

Role

Lighting and VFX Artist

Company

Milestone
Experience
Freelance Creature and Character Artist at Roberto Digiglio

Turin, Italy

Creature and Character Design

• Concept Design

• Modeling/Sculpting

• Texturing


Freelance Character Designer at Aaron Sims Creative

• Character and Creature design for various movies, adv, ecc.

Freelance Creture Designer at PUBG Corporation

December 2021 - April 2022

Freelance Character and Creature Designer at W&B Television

• Character and Creature designer for Amazon Prime Video TV Show "Der Greif" alias "The Gryphon"

3D Lead Designer at Polymorf

Netherlands

Winner IDFA Special Jury Award for Creative Technology

• Creature and Character Design

• Environment Design


Freelance 3D Character Artist at Stormind Games

September 2020 - October 2020

• High Poly Sculpting and Retopology

• Low Poly Modeling

• Texturing

Freelance 3D Character Artist at Game Atelier

November 2019 - January 2020

• High Poly Sculpting and Retopology

• Low Poly Modeling

• Texturing

Freelance 3D Character Artist at Share Creators

• High Poly Sculpting e Retopology

• Low Poly Modeling

• Texturing

Lighting And VFX Artist at Milestone

Milan, Italy

October 2017 - February 2019

• 3D Artist

• Assistant Art Director

• Lighting

• VFX

• Post-production

Co-founder, Lead Artist and Art Director at Brain in the Box

Cavallermaggiore, Italy

April 2014 - September 2017

• Lead Artist and Art Director

• Technical Artist

• 3D Artist